Taylor Mates chooses for Claeren Advies Groep
The financial service provider Claeren Advies Groep located in Brabant has acquired Taylor Mates, located in the city of Oss. Through the acquisition an organization of 79 employees arises with branches in 's-Hertogenbosch and Oss with a revenue of broadly 8.5 million euros.
Strong regional focus
Taylor Mates, independent insurance broker, offers Claeren an excellent connection to the operating market of the municipality of Oss. Taylor Mates counts 29 employees and is broadly 29 years active in as financial service provider. With 50 employees, Claeren has been active for almost 100 years and is in possession of a health and safety service and a human research advisory branch, next to a stockbrokerage and power of attorney. The strategic merger of both parties to one strong, large organization will improve the position of Claeren and Taylor Mates, business and private, in the triangular region of 's-Hertogenbosch, Oss and Eindhoven.
New perspective: 1+1= 11
The merge brings the best of both world together. Director Marc Claeren: 'We have already known Taylor Mates as a professional colleague with great propositions on income and pension advice and holds a large regional network. From our growth strategy a relevant organization to add to Claeren Advies Groep.' Both parties possess a clear focus on high-quality advice and aim for the entrepreneur in the business community. Director Peter Taylor Parkins: 'Our vision and DNA barely deviate from each other. The merger enables us to offer our clients an even broader and more professional service.' Both Marc Claeren and Peter Taylor Parkins stay active in their businesses in their own branches.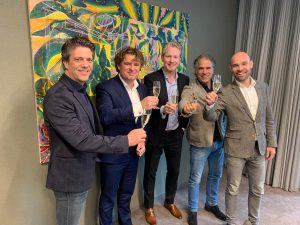 Expansion of specialization
For the clients of Claeren the merger means an enhancement of the advisory team for pensions, life and mortgage. In addition, the merger gives the opportunity to offer the health and safety service and a human research advisory branch to a broader consumer group. Operational directors Michiel Laarman (Claeren) and Bart van Helvoort (Taylor Mates) emphasize these advantages. Michiel Laarman: 'Through the combining of forces we are able improve the quality of our services. Also, it offers new opportunities for employees to develop and specialize.'
For the clients of both branches the acquisition hardly have any noticeable consequences. The new organization keeps both branches in 's-Hertogenbosch and Oss. As yet, both businesses operate under the same name, familiar by their clients and stakeholders. The new organization is listed as one of the 40 biggest independent financial service providers in The Netherlands with a strong focus on their regional markets Northeast and South Brabant.